The Refugee Nation flag will fly from Witney Town Hall to mark World Refugee Day.
Witney Town Council announced this week that the orange and black flag will be hoisted on the morning of Thursday the 20th of June as a gesture of solidarity with the refugee community across both the town and the world. The flying will also mark Refugee Week, which takes place across the globe from the 17th to the 21st of June.
Since the outbreak of the Syrian Civil War in 2011, six families have been resettled in Witney and West Oxfordshire under the Government's Vulnerable Persons Resettlement Scheme, with several others also making their home here after fleeing the war-torn country. The Council has said it is thought Witney Town Council will be one of the first local authorities in the country to fly the flag.
Deputy Mayor Joy Aitman, who is also Vice Chair of the Stronger Communities committee which passed the motion, said;
"It is easy to forget the plight of 60 million refugees and internally-displaced people when you live in rural Oxfordshire. We want our local refugee families to know we are thinking of them and their friends and families who have not yet found a safe home.
I am a strong believer that if you have plenty, you make your table longer and you add more seats," Cllr Aitman added.
The flag takes inspiration for its striking orange and black design from the similarly-coloured lifejackets, which have become synonymous with refugees crossing the Mediterranean since the ongoing humanitarian crisis began earlier this decade. It was created by Yara Said, a Syrian artist and refugee, who now lives in Amsterdam as a response to the participation of a refugee team in the Rio de Janiero Olympic Games in 2016.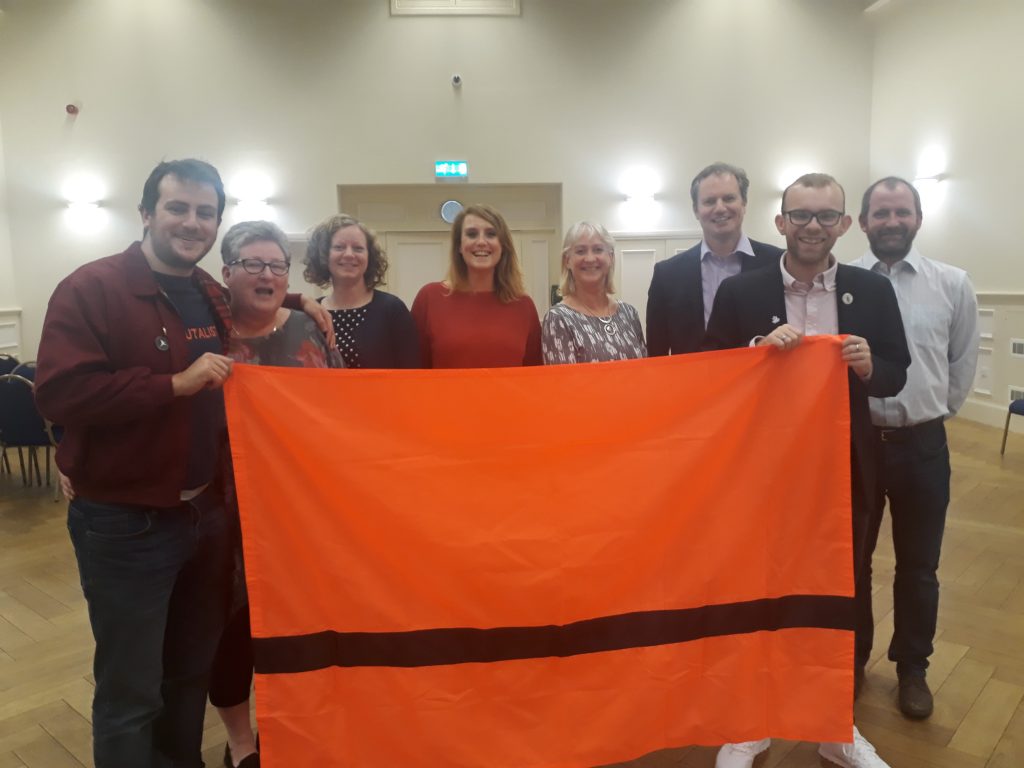 Members of Witney Town Council Planning Committee display the flag of the Refugee Nations"Black and orange is a symbol of solidarity with all these brave souls that had to wear life-vests to cross the sea to look for safety in a new country", the artist explained. "Since I had to wear one, I have a personal engagement with these life-vests, and these two colours."
Town Councillor Liz Duncan, a member of Witney Refugee Action Group which has helped settle the six Syrian families in the town, said; "Many people in our town have worked hard to support the needs of refugees both here in Witney, and around the world, and we should be proud of the difference we have made. Their plight continues, and the flag reminds us never to stop caring or helping."
THE FLAG WILL BE RAISED AT 8.45 IN THE MORNING AND ALL ARE WELCOME