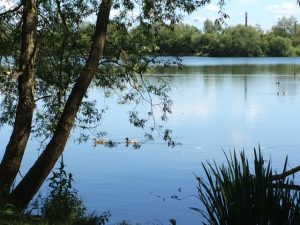 LAKE & COUNTRY PARK – Queen Emma's Dyke contamination
Yesterday evening we were made aware of a problem with a potential contamination of the water in Queen Emma's Dyke. The Environment Agency and Thames Water were both onsite investigating.
Witney Angling Society's Chairman, Andy Lawson, has called with an update this morning, confirming that dead fish were found in Queen Emma's Dyke, the stream alongside the lake, but that they had been working to rescue as many as they cou…ld. The Environment Agency has dammed the dyke upstream while their investigations continue so if you are visiting the lake you will notice that the dyke has been reduced to little more than a trickle. Sadly, you may also see some remaining dead fish in the stream.
Witney Lake is self-contained and no water courses feed directly into it. We have not been notified of any contamination to the Lake itself, but our usual advice stands; that we do not encourage swimming or allowing your dogs to swim in the lake which contains untreated water.
If we receive any further information we will update our social media and website pages.