A BIG THANK YOU TO OUR
WITNEY HEROES
It is time to acknowledge the enormous debt of thanks we owe to all those in our town who have responded to the COVID-19 pandemic with dedication and hard work.  These are ordinary people doing extraordinary things that have an immediate, positive, and tangible impact on the morale and wellbeing of others in the town.
With your help we can celebrate these modest heroes and offer a heartfelt thank you.
There are no categories because sometimes the smallest act of thoughtfulness at the most difficult of times makes someone the biggest of heroes to you, in that moment.
Witney Town Council wants to hear from you, with your nominations of someone that made a difference for you.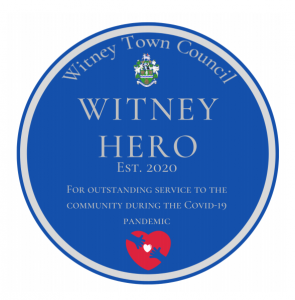 Please let us know YOUR Witney Hero, including comments/stories as a way of saying thank you. Every person or organisation nominated will receive a badge and certificate from the Council which will include your comments.
There is no closing date for this nomination while the Pandemic is ongoing, and the community is still supporting each other in exceptional ways.
To nominate someone, fill in the form below.
Witney's Heroes
Here is a growing list of the brilliant winners you have nominated so far. As we write to  let them know about their award we will add them to this list.
Bakers Butchers
Witney Land Army
Maria Grindley
Simon Oliver
Steve Bott – Witney Vikings Youth Football Club
Eastern Cuisine
Citizens Advice West Oxfordshire
Admins of the Covid-19 Facebook Support Group
Jane Doughty
Jo Browne
Vicki Smith
Leah Campbell
M&M Skip Hire
Alison Smallman
Amy Bustin-Kelly
Debra Jephcott
Ian Dewar
Kevin & Jane Slater
Maddison Lambourne
Monica & John Osborne
Nathaniel Miles
Penny Ford-McNicol
Queen Emma's Primary School
Sara Kemp
Tesco Express, Fettiplace Road
UE Coffee Roasters
Vicki Hope
Waste O
Wate's & Co Delicatessen
Windrush Medical Practice
Witney Parkrun
Samantha Flynn
Punam Owens
David Miles
Witney Baby Bank
Witney Community Fridge
Justine Tossell-Pugh
Windrush Radio
2120 Witney Squadron ATC
Maria Grindley
Helen Curtis
Claire Dyer
Marlies Pickering
Jane Cotter
Charlotte Smith
Mike Brooker
Mike Parkes
Steve Boyle
Zebb Guy
Lindsay Pritchard
Tim Walker
Kate Sutton
Luci Ashbourne
Laura Price
Owen Collins
Toby Swift
Sonia Delaney
Lynn Hagen
Ana-Marie Crockford
Vicky Block
Ruth Smith
Becky Middleton
Ellie Walker
Sarah Hayton
Simon Adderley
Sheila Peterson
James Nellist
Lynn Hunter
Julie Brown
Joff Greer
Janet Soame
Codfather Fish & Chip Shop
Thomas Young – Witney RFC
Lucy Lavers
Little Dots Daycare
Beth & Claire Sherlock
Denshams Butchers Ltd
Screwfix
Cedar Court Care Home
Liz Evans Beauty
Sam & Laura Edney
Oxfordshire Performance Autos
SERV-OBN – Blood Bikes
C S Motors Ltd
Witney Fire Station
West Witney WI
India Mae
Laura Lamb
Sean Grace
Val Duvall
Geoff Norris
Guideposts Oxfordshire
Independent Futures Witney
Jackie Bone
Julietta Day
Witney Rotary Club
The Coffee Shed
Marion Harley
The Blake C of E Primary School
Witney Team of BelleVie
Witney Scouts
Tracey Eagle
Tower Hill Community Primary School
Springfield School
The Woodman Inn
Tony Lock – Postman
Nicole Smith & Sharon Buckingham
Michelle Hunt
Madley Brook School
Little Oak Pre-School Witney
Katie Amiri
Juliette Clark
Hope Edwards
Helen Keen
Emma Lawley
Cogges Tesco Express
Abbie Bailey
Adrian Phillips
Jenny Tricker
Somme Company
Windmill Cubs
Vicky Gwatkin
Lisa Kinahan-Montgomery
Covid Testing Staff – Henry Box School
Witney Commercials Ltd
Moora Motors
Witney Minor Injuries Unit
Paul Maycock
James Boxer
The Club Company – Witney Lakes Resort
Amanda Jones – Nurse at Witney Community Hospital
Witney Pride Team
Rachel Hill
Fat Lil's
Windrush Bike Project
Anthony Robert Ashe
The Ice Centre
Windrush Flooring Witney
Olivia King
Vito Marcinkevicius
Pete Harvey
Gemma Hardwood
Coach Nemo
Rael Mills
Laura Gates
The Batt C of E Primary School
Witney Methodist Church
Team Buckingham – Matt Fiddes Martial Arts Madley Park
Laurel Leaf
Boots Deer Park
Lisa Phipps – Waitrose
Geoff Branner
Rebecca Coles
The Camden Society
Ben Wright – Wiring Solutions
Steven Miller – SGM Plumbing
Cogges Surgery
Sophie Richens – SR Beauty
The Griffin
Maham's Newsagent
Nurses at the Wenrisc Ward – Witney Community Hospital
Wendy Bayliss
Deb Pargeter
Sam Carpenter