Please find below a link to display the full results of Witney Town Council's Corporate Plan Survey. A brief summary of the questions and their analysis and how they were used is given here.
https://www.surveymonkey.net/results/SM-Q993R65T/
You can view the results as Question Summaries, where you can view all the comments, or more simply as data trend graphs by selecting these options in the tab at the top.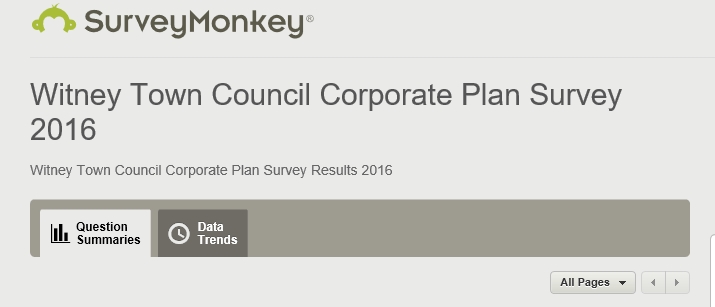 All survey responses were gathered anonymously. Questions 1-6 helped us to gather information on the respondents so that we could ensure that we were reaching a good cross section of the residents of Witney.
Question 7 rated satisfaction across a number of services that the Town Council provides. We used these responses to generate the top 3 services you were most satisfied with and the top three services you were least satisfied with.
Question 8 which asked about willingness to pay more for services required a Yes/No answer but a comments box  allowed for an open ended response. To view the comments click on the word and a list will open.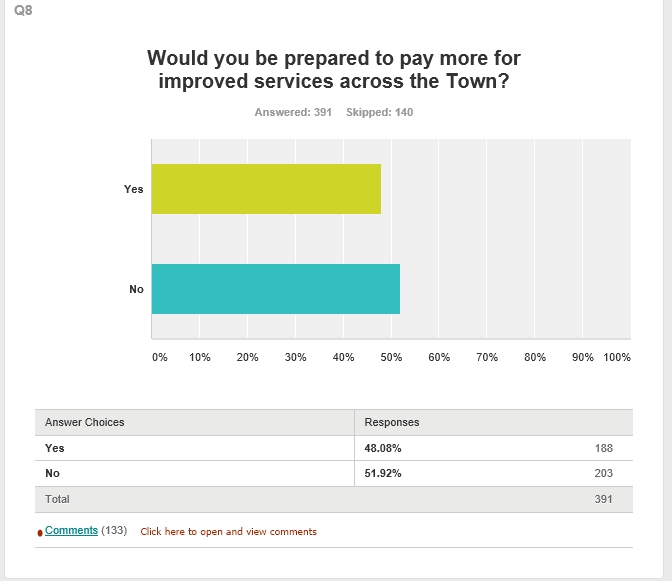 Question 9  has 3 ranked responses and again you can click on each to expand them.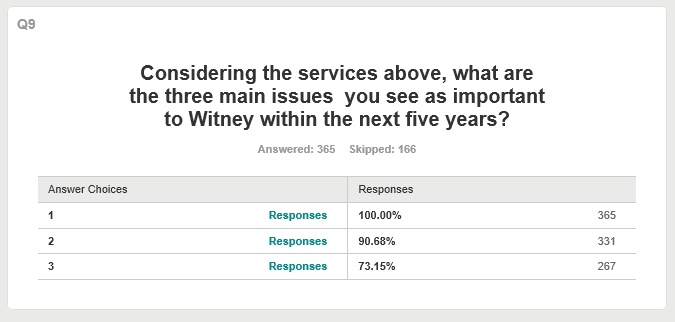 Finally, Question 10 invited additional comments on any issues or concerns.
SUMMARY & TOWN COUNCIL RESPONSE
In total, there were 531 responses to the Survey, 67.2% of which were submitted online. Respondent age ranges reflected a good cross section and included senior citizens, students and members of youth organisations. Your overall main concerns are listed on the left but the three specific Witney Town Council Services you were least satisfied with were Communication, Street Furniture and Christmas Lights. The three you were most satisfied with were The Leys Splash & Adventure Park, Civic Events and Witney Lake & Country Park.
We also asked you to list the top 3 issues that concern you, thinking ahead over the next five years. We then filtered these lists to produce the Top 5 of each of those issues. We have added the local council with main responsibility for the provision of each of the services, though occasionally there is some crossover: – Oxfordshire County Council (OCC) , West Oxfordshire District Council  (WODC) and Witney Town Council (WTC)
PRIORITY 1
Roads and Infrastructure      26.03% (OCC)
 Opens Spaces and Sports      11.51% (OCC, WTC & WODC)
 Litter and Cleanliness            7.40% (WODC)
 Public Halls                                   6.30% (WTC)
 Play Areas                                      5.75% (WTC, WODC)
PRIORITY 2
Roads and Infrastructure 21.15% (OCC)
 Open Spaces and Sports 9.97% (OCC, WTC & WODC)
 Litter and Cleanliness 7.85% (WODC)
 Play Areas 5.44% (WTC, WODC)
 Communication 5.14% (WTC)
PRIORITY 3
Roads and Infrastructure 13.86% (OCC)
 Street Furniture 10.49% (WTC, WODC)
 Entertainment 10.11% (WTC)
 Open Spaces and Sports 6.37% (OCC, WTC & WODC)
 Future Planning 5.62% (OCC, & WODC)
A staggering 61.04% of you listed Roads and Infrastructure as one of your top 3 and this included Potholes and Traffic problems in and around the town.
Although Highways and Street maintenance/infrastructure is not one of the services Witney Town Council delivers, your councillors share your concerns about the current state of local roads and pavements and will continue to seek resolution on your behalf. This applies to any of the issues you raise about services provided at District and County Council level.
A response to the survey results by Cllr Chris Woodward, Chair of The Communications Steering Group.
 "The Town Council is delighted with the level of response and the thought and consideration behind your replies which demonstrates a genuine love and passion for Witney. The Town Council strives for excellence in all that it does and realises there is always opportunity for improvement. We will use your feedback to inform and plan works and services both short term and as part of the five year corporate plan. We are addressing the Witney Town Council Services that gave you the most concern and will pass on anything beyond our remit to the correct authority on your behalf. We always welcome correspondence from our residents."
How is the Town Council Responding?
Communication—The Town Council recognises the importance of effective two—way communication and over the past 2 years has committed to meeting the expectations of the community it serves by reviewing and making improvements to the way it communicates. These include :
Using a variety of methods including traditional paper based media press releases, quarterly newsletter, posters, leaflets, council minutes and information leaflets; online media – social media accounts, Facebook, Twitter and website; direct resident contact – Annual Town Meeting, Community coffee mornings. Councillor and staff interaction and consultation on specific issues using surveys and The Voice of Witney group to widen its audience reach and speed up response times.
Witney Town Council's newly created app sits alongside these and is a useful addition, providing a mobile platform for the exchange of information on the move.
The newsletter is issued quarterly and accessible online with hard copies also available from a number of outlets, including the Town Hall and our Public Halls. The spring issue, which contains information about budgets, the precept and Town Council spending, is also delivered to all households within the town boundary of Witney, reaching our residents who do not have access to information online.
The Town Council has worked hard to achieve a positive and constructive relationship with local media and now strives to maintain this by issuing regular news updates and responding in a timely manner to requests for information, comments and interviews whenever possible.
The website has been redesigned in house and is now a mobile friendly version with streamlined structure, clearer navigation and more information.
Building on positive experiences of interaction with Councillors and staff to reinforce the image of the Town Council as accessible, responsive and accountable.
Street Furniture – The Council maintains street furniture such as benches, bus shelters, refuse and dog waste bins etc.  It has set aside more in the budget this year and will begin a rolling programme of improvements.
Christmas Lights – The town's Christmas Lights display is funded from money raised through Council Tax. A very small amount of income is received in sponsorship from local businesses towards the Christmas Tree.  Last year the budget was reduced in order to make savings, however, from feedback on the display the Council recognises that residents look forward to a good display. For this reason they have significantly increased the budget this year, with a one off additional investment of £8k required to bring the infrastructure to a standard that allows for additional lights throughout the town. The tender has been issued and a new supplier appointed.