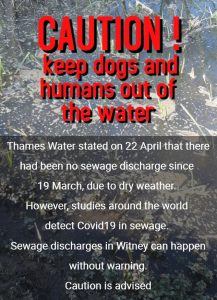 Windrush Against Sewage Pollution Group have recently been in correspondence with Thames Water about the discharge of untreated sewage into Witney's Waterways, following up on articles that indicate that Covid-19 can be present in both treated and untreated sewage. They asked Thames Water if they could be updated when discharges take place in order to remind people of the dangers of entering the rivers, stream and lake around the Country Park area.
In response, Thames Water have said that updates will not be issued, as currently there is no proof that Covid-19 can be transmitted in this way.
Consequently, as a precautionary measure, signs will be in place advising visitors that continued caution with regard to not allowing dogs and people to enter the water is wise.