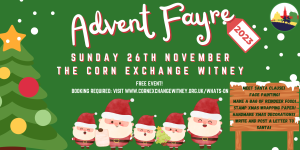 Witney Town Council is pleased to announce the dates and ticketing information for its Children's Advent Fayre.
The Advent Fayre will take place in the Corn Exchange on Sunday 26th November.
The event continues to be a free event for Witney children, but this year tickets and time slots need to be booked in advance. The introduction of bookable time slots aims to make the event more comfortable and safer for all those attending, whilst serving as many Witney children as possible.
Booking for this event will be made 'live' at 10am this Friday, 3rd November.
You will be able to book a two-hour visit, timeslots start at 10am with the last session of the day at starting at 4pm. To manage participant numbers, attending adult tickets must be booked as well as tickets for children.
Floor space is limited at the venue, and this is a very popular event – Witney Town Council respectfully ask that adult tickets are only booked for attending parents/guardians (and not additional adults), to allow as many children to enjoy this experience as can be facilitated.
Activities this year will include festive craft projects, letter to Santa, make-your-own reindeer food, face painting, and a visit to Santa. All activities are free for children living in Witney.
PLEASE NOTE THIS LINK WILL NOT GO LIVE UNTIL FRIDAY, SO WILL NOT CONNECT YOU TO TICKET BOOKING UNTIL THEN