ANNUAL TOWN MEETING
THE CORN EXCHANGE WITNEY
WEDNESDAY 15TH MARCH 7:30pm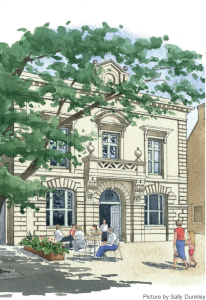 JOIN THE CONVERSATION -The meeting is an important part of local democracy and is open to all registered electors in the town.
The Annual Town Meeting is facilitated by the Town Council on behalf of the electorate.
It's not a Council meeting, but an opportunity for residents to raise and discuss matters affecting the town.
Reports are presented by the Mayor and Town Council committee chairs to let you know what the Council has been working on for the last year, and about the Council's future plans.
The evening also includes a display by charities and organisations that have received financial grants from Witney Town Council.
Tea and coffee will be available before the meeting.
Residents are encouraged to take part in the public question session. If you have any questions you would like to raise it would be helpful, but not essential, if they could be submitted in advance of the meeting.
Questions asked in advance can be researched in order that a more informed discussion can take place and a comprehensive answer may be provided at the meeting. Submit your questions by letter or email to the Town Clerk: townclerk@witney-tc.gov.uk
For those who might be a bit shy about speaking at the formal meeting or who would like a more in depth chat, there follows an opportunity for residents to speak with the Town Councillors in small groups.