Witney Town Council's renovation of the town's Corn Exchange is entering the final phase as new, retractable, tiered seating is about to be installed in the main hall.
The installation will provide comfortable seating for an audience of around 130 people and has been designed to maximise the remaining space where possible, while still ensuring accessibility is a priority.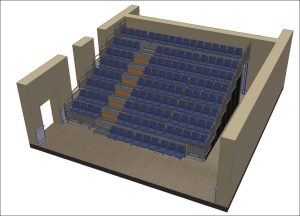 Installation will start on 5th December. The work will be carried out by Hussey Seatway Ltd at a cost of £69,673.00.
Witney Town Council has funded the seating with money set aside for the refit of the Corn Exchange and has also been fortunate in securing a Community Facilities Grant from West Oxfordshire District Council.
Cllr Mel Jones, Chair of Halls, Cemeteries and Allotments said,
"I am delighted that the Corn Exchange refurbishment is going to make such a huge difference for the residents of Witney. I would like to thank the officers at the town council for all their support and work on this but would especially like to thank Councillor Owen Collins for his valuable input. 
Cllr Owen Collins, Chair of the Corn Exchange working party commented
"I'm delighted that after numerous delays and doubts, the long-awaited retractable seating for the Corn Exchange finally has an installation date. Following the audio-visual equipment, this is a massive milestone in our journey to returning the Corn Exchange to an affordable, accessible arts centre for the people of Witney and beyond.
The modern seating will help make the Corn Exchange an even more appealing venue for local and touring productions, and will add to the versatility of the hall. Thanks to its retractable nature, we will continue to be able to accommodate a wide and varied programme of events, bringing creativity and culture back into the very heart of our town."
This final phase brings to fruition the aspirations for the Corn Exchange to be a significant community arts and performance venue for the town.