A grieving 9-year-old girl's touching wish to send a letter to her grandparents who had passed away has led to the installation of post boxes to heaven in 36 crematoriums nationwide.
Witney Town Council decided that Matilda Handy's idea is such a lovely one, that they wanted to make this service available to Witney residents too, so the Council is delighted to be installing the cream-coloured post boxes in both Tower Hill and Windrush cemeteries.
Councillor Rachel Crouch, Chair of Halls, Cemeteries and Allotments commented,
"What a beautiful idea and such a kind way to support grieving families."
Feedback has shown that the act of writing a letter, or posting a card or picture to a lost loved one has brought therapeutic comfort to many people using the boxes and it is hoped that ours too, will offer comfort to those grieving on a daily basis and help ease the more acute feelings of loss felt on anniversaries and special days.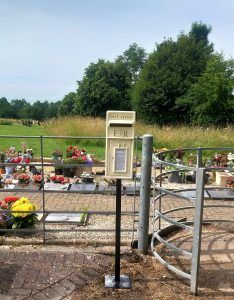 Melanie Jones, Chair of Witney Friends of the Cemeteries group thinks this is wonderful news,
"I am delighted that one of the Post Boxes to Heaven is now in place at Windrush cemetery. This offers those who are missing their loved ones the opportunity to post cards and letters to heaven. Witney Town Council is always keen to support those who are grieving in any way possible, and we thank them.
We are looking forward to seeing a post box in Tower Hill cemetery too, in due course."
The post boxes are not exclusively for use by those with people buried in the town's cemeteries.  They are available to anyone who is grieving that might take comfort in this connection with their loved ones.
You don't need a stamp as the boxes will be administered and emptied, when full, by Town Council staff and the contents will be treated sensitively, confidentially and with respect.
We do ask that you don't post anything other than paper and please do not put anything precious that you will want to keep in the boxes as we cannot return things once they have been posted.