SMOKE FREE PLAY AREAS – DESIGN A SIGN COMPTETITION
Can your child help Witney Town Council to create smoke free play areas by designing a sign for your local park?
We are challenging our young people to produce attention grabbing images and thought-provoking language to promote a healthy, active, and positive smoke-free message.
Children copy what they see, so making parks and playgrounds smoke-free will take smoking and vaping out of sight of children and make it seem less of a normal activity, in the hope that fewer children will go on to smoke or vape themselves.
It is hoped that the project, in partnership with Smoke Free Oxfordshire, will produce a set of colourful and eye-catching posters, which will be installed across our parks and play areas.
How to enter
• Your design should be bright and colourful to attract attention. You could include words such as "smoke free zone", "please smoke or vape outside our park", "Proud to be a smoke free park" – or any other words you think will get the message out!
• The competition is open to any child currently at Primary School in Witney and we also welcome entries from children enrolled in Witney community groups, such as Brownies, Beavers and others, as well as entries from primary age children resident in Witney.
Please submit your entries to: info@witney-tc.gov.uk or Witney Town Council, Town Hall, Market Square, Witney OX28 6AG. Don't forget to include your name, age, school, and your contact details with the artwork. The closing date is Friday 14 April at 12pm.
Here are some examples done by Oxford school children for smoke free school gates to get you inspired!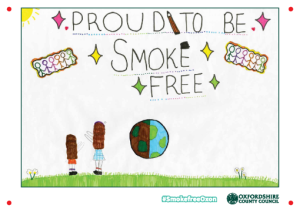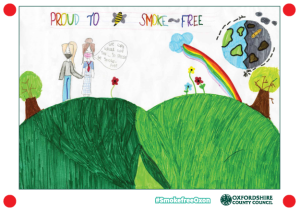 More information for the Grown-Ups
Witney Town Council is introducing a new smoke free policy in its play areas. This will improve the health of those using the play areas.
Reasons why the Town Council has chosen smoke free play areas include: –
• Teachers, parents, guardians and other adults have an important role in influencing the attitudes and smoking behaviour of children and young people.
• Three out of four children are aware of cigarettes before they reach the age of five. Evidence tells us that children are less likely to start smoking if they do not see it.
• Two thirds of smokers (two out of every three smokers) say they began smoking before the age of 18. Those who start smoking before the age of 16 are twice as likely to continue to smoke compared to those who begin later in life, and they are more likely to become heavier smokers.
• Becoming smoke free protects children from the harms linked to smoking: – Across Oxfordshire 886 children take up smoking a year. This increases their chances of many preventable illnesses such as cancer, Chronic Obstructive Pulmonary Disease, strokes and cardiovascular disease.