Some Leys Pitches to Be Back In Play Before January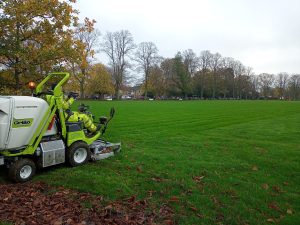 Witney Town Council is delighted to announce good news about the pitches at the Leys. Protective fencing which had been in place around the renovation work being undertaken on The Leys pitches was removed on Tuesday 29th November. The grounds team have commenced mowing the field.  They aren't making a traditional autumn cut but completing a full cut and collect to help keep the thatch level under control and ensure the new sward has the best chance to further enhance its root strength. The Autumn weather has been much milder than usual, so the new grass has germinated better than expected.
The Council is able to open up a portion of the field for football earlier than expected. It is proposed to mark out two 7 x 7 and a 5 x 5 pitch that could be bookable as early as this weekend. The rest of the area will require some additional work but is still on target to be in play in January.
In addition to this, as a result of the Council bringing its grounds maintenance contract in house it has been able to invest in a Shockwave linear decompaction machine that will enable the team to perform more frequent decompaction work on all its football pitches. This will allow for decompaction work to be carried out more frequently  during the out of season maintenance periods, which will greatly improve the condition of all of the Town Council's sports pitches.