On Thursday 16th March Witney Town Council and the Witney Music Festival Festival signed a partnership agreement that will see the Town Council providing core sponsorship and free use of The Leys to facilitate the Musical Festival each year.
Cllr Vicky Gwatkin explains the importance of partnership working to deliver community action events and projects,
"Our new partnerships are about recognising what we value as a town council whilst appreciating that others may be much better placed to deliver it. We are privileged to have many organisations which form part of the fabric of life in Witney and offer wide ranging community benefits. These are run by people who are passionate about what they do and have a wealth of talent and expertise.
The partnerships are a formal way for the Town Council to acknowledge the role these organisations play and let them know we are keen to work with them to help them develop and achieve their objectives. It is a rejection of the 'them and us' and we hope it brings everyone round the table with the same positive mindset to work collectively in the best interests of Witney.
We plan to roll this scheme out further over the coming years."
The Festival showcases headline artists but also supports local musicians and their Mission Statement and Vision focus on 'Building community through music'. They seek to provide opportunities and to inspire young musicians and performers.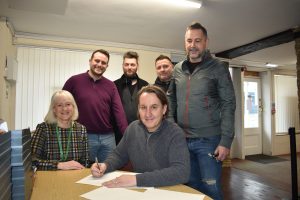 Eric Marshall is Chairman of the Witney Music Festival. He echoed the significance of the partnership,
"The Witney Music Festival team are hugely grateful to Witney Town Council for this new partnership which will help secure the festival for the future. The festival is so much more than the two days, it involves the community on so many levels: artists, suppliers, local businesses and all the people of Witney who attend.
In the establishment of this agreement the Town Council have shown their commitment to the town they represent and the WMF are proud to now be working alongside the Witney Town Council to deliver this celebration of all that's good in Witney for years to come."
Chair of the Stronger Communities Committee, Cllr Owen Collins added;
"I'm absolutely delighted that Witney Town Council has entered into this new partnership with Witney Music Festival, which should safeguard the future of the festival for years to come, as well as allowing it to grow even further.
The WMF has been one of the jewels in Witney's crown for years, and the town owes a tremendous debt of gratitude to the volunteers that make it possible. They help keep music, arts and culture front and centre of our community, a vision which the Town Council share wholeheartedly. This new formal agreement will mean that the people of Witney, its plectrummed plethora of musicians, and its fantastic local businesses, will all continue to enjoy the many benefits of this brilliant event."