Following a period of consultation and feedback from the local community, we are now at the very exciting stage of being able to reveal the plans for the reimagined Wheeled Sports Park at the Leys, due to open in March 2024.
Witney Town Council has listened to those who have been pushing for improved facilities and embarked on achieving as much as possible of a survey generated wish-list, within the constraints of the space and budget.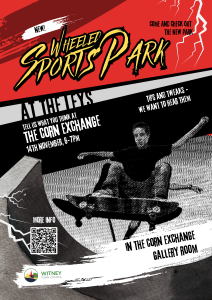 The unveiling event will also offer the opportunity of some further conversations with key users. It's a chance for us to hear what you think.
The designers, Bendcrete are keen to demonstrate how they have fulfilled the vision presented to them and produced a design for an inclusive and accessible community hub for our wheeled sports enthusiasts.
The proposed park is designed to appeal to all ages and offers challenges for differing experience and abilities.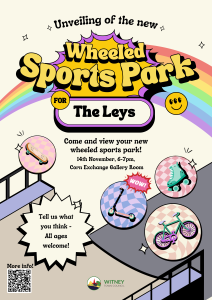 It doesn't matter if your wheels are on skates, scooters, wheelchairs or boards, this is intended to be a safe, inclusive and welcoming space for you to get involved.
Our thanks go out to everyone that completed our survey and provided feedback. Please join us for the unveiling of the plans in the Gallery Room of the Corn Exchange on Tuesday 14th November between 6 and 7pm.
If you are coming, please let us know as there is limited capacity in the gallery room, so we need to manage numbers. Please just drop an email to info@witney-tc.gov.uk.