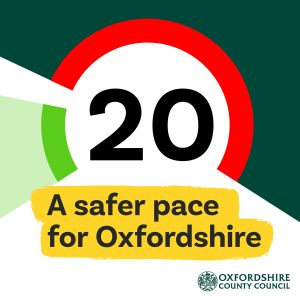 The speed limits across Witney and parts of Oxfordshire are changing.
Witney is the largest town in Oxfordshire to pilot a large-scale speed reduction to 20 mph,  funded by Oxfordshire County Council.
Several stretches of road on the outskirts of the town are not suitable for a 20mph limit, so reductions here are proposed to be proportionate to the surrounding road layout
The benefits of lower speed restrictions are:
Cleaner air
roads that are less noisy
residents can enjoy walking and cycling. It is hoped lower car speeds will result in less accidents and severe injuries. A crash at 30mph has twice the energy and destructive potential of a crash at 20mph
The Town Council campaigned for speed restrictions following requests from residents for some time and hopes this scheme, brought about by a change of policy and approach to simplify speed limit requests by the County Council, will encourage active and safer travel across Witney for all.
20 is Plenty for Witney. Lower Speed restrictions are legally enforceable by the Police once Traffic Regulation Orders are in place. If you speed, you could be caught
Maps showing the changes agreed following an Oxfordshire County Council consultation in the summer of 2022 can be seen below.
For further information please visit the Oxfordshire County Council website here: http://www.oxfordshire.gov.uk/20mph
Witney 20mph plan-General Layout