The Mayor of Witney is elected after a majority vote of councillors annually at the beginning of May at the Town Council's Annual Meeting. The Mayor is the Chairman of the Council, is entitled to attend all meetings in an ex officio capacity and presides over the Full Council meetings. He or she is the elected representative of the Council who leads civic engagements and attends public events in Witney. Historically, the Mayor is bestowed the honorary title of first citizen of the town and is also an Honorary Rotarian during their year.
---
The Mayor of Witney for 2020-2021 is Councillor Joy Aitman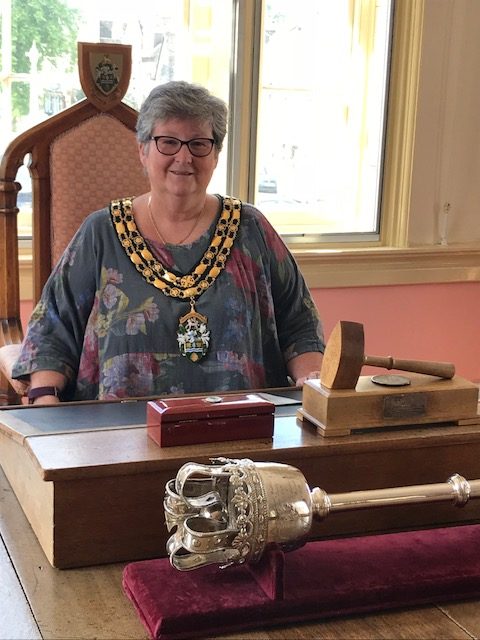 "I am originally from Glasgow, Scotland but when I was 10 my family moved to Hong Kong, so that my Dad could take up a Government position. I was privileged to attend an amazing school, Hong Kong Island School, and I have met with other Islanders who live in Witney.
It was just a fantastic place to be brought up and gave me the opportunity to travel the world.
I moved to Witney in 1993 and married in St. Mary's Church in 1994. My husband  Mark and I  loved the town as soon as we saw it. We came to have a look when I was working in Wallingford and Mark was working in the Cotswolds. It was right in the middle when we looked at the map. Little did we know how much we would fall in love with it and go on to raise a family here. Mark has been my biggest supporter.
I have 4 children, all of whom attended The Blake School and Woodgreen School.
Rosie is 25 and lives in Bristol, she is a trainee paramedic and is in the thick of it at the moment. I am so proud of her and her dedication. I look forward to seeing her as soon as I can.
Jake is 23, he lives with us and works for WODC. Many people in the town will know him as the bassist from Better Than Never. He is also being kept busy by the pandemic.
Grace is 22, she is a final year student at Brighton University and is currently at home finishing her dissertation.
Duncan, yes he is named after Duncan Enright, is 20. He also lives at home. He sadly suffers from ME and this makes it difficult to work full time. He trained for a year as a chef and hopes to work with food in the future. He makes the best Monkey Bread.
I trained as a teacher and have worked in both infant and secondary schools, in London and Oxfordshire. I love working with young people and it is so refreshing to learn from them. I am thrilled when I meet past students in town and they tell me what they are up to.
I have also written for craft magazines and I have a number of scrapbooking books to my name. I love crafting and am never happier than when I am creating. Scrapbooking is my first love but I also knit, crochet, sew, felt and paint.
I am thrilled to be elected as Mayor and look forward to representing Witney. I hope to focus on rebuilding the spirit of the town when our current situation changes. I am sure we will work to celebrate the reopening of Witney.
I am enjoying working with the Youth Council and supporting them in putting on events for the town. They are an ambitious group and have many exciting ideas.
On the Corn Exchange Working Party we have been working to create a heart for our community.  I am excited that we will soon be seeing some fabulous changes.
I hope to spend my year focused on our young people. They are the future of our town and therefore I will be choosing charities which reflect this.
---
Request the Mayor
To request the Mayor at an event please complete our Booking the Mayor Form or contact the Mayor's Diary secretary loraine.harwood@witney-tc.gov.uk
Deputy Mayor
The Deputy Mayor is Councillor Liz Duncan