The Mayor of Witney is elected after a majority vote of councillors annually at the beginning of May at the Town Council's Annual Meeting. The Mayor is the Chairman of the Council, is entitled to attend all meetings in an ex officio capacity and presides over the Full Council meetings. He or she is the elected representative of the Council who leads civic engagements and attends public events in Witney. Historically, the Mayor is bestowed the honorary title of first citizen of the town and is also an Honorary Rotarian during their year.
---
The Mayor of Witney for 2019-2020 is Cllr Duncan Enright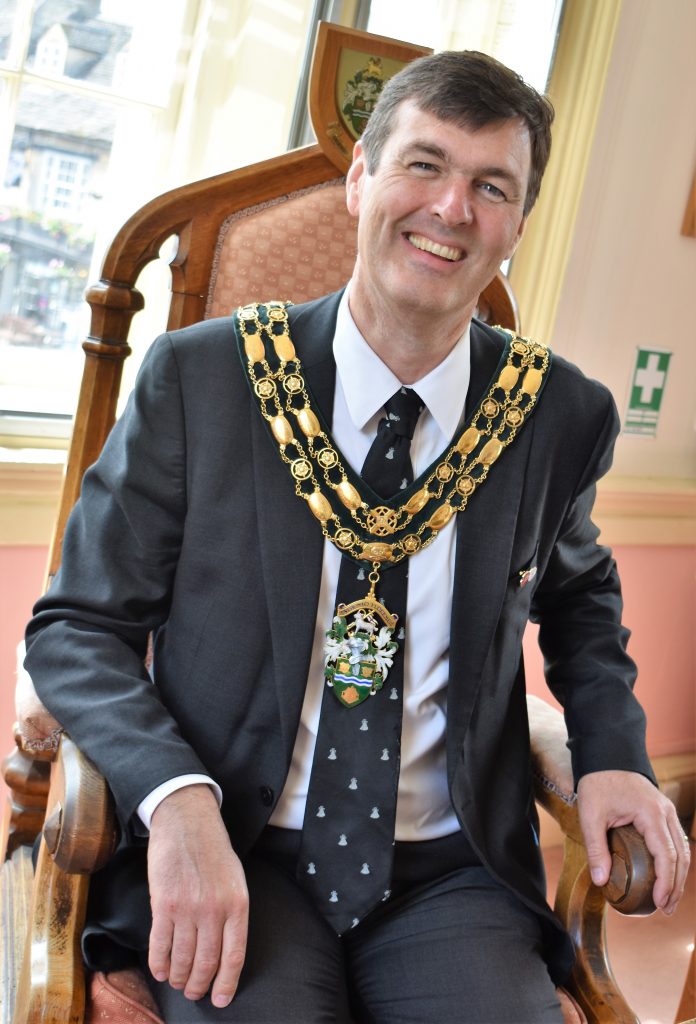 "It is an honour to serve as Mayor for Witney this year. Thank you for voting for me, and to my fellow councillors for placing their trust in me. My role is to bring the town together and celebrate all that is great about Witney, making sure we all look after each other. I also represent our town to the outside world, along with others, including to our twin towns whose partnership we value particularly at this time of international upheaval. We would I'm sure all like Witney to be a confident, welcoming, happy market town, in the Heart of the United Kingdom and Europe, no matter what the bigger politics brings.
I moved to Witney in 1996 from Oxford along with my wife Sally-Ann and daughter Katy. We lived first on Oxlease, Cogges. After the birth of Lucy and Tom, we moved to our current home on Newland. Sally-Ann's parents Jim and Eileen live in North Leigh, and my mother lives in Pimlico.
Since 2011 I have served as a Town Councillor for the East of Witney, including Madley Park, Cogges, Newland and Oxford Hill, Woodstock Road and Aquarius. Since 2012 I have also proudly represented the area on West Oxfordshire District Council. We are on the beautiful fringe of the town, with Cogges Farm, the river Windrush and Langel Common bordering the centre, and served by The Blake, Wood Green, Springfield and Madley Brook Schools, as well as Cogges Surgery. I was proud to be a member of the campaign to save the surgery last year. I will continue to work as a local councillor to improve our roads and parking, safeguard and improve open spaces like King George's Field and Wadards Meadow, and help people get safe affordable homes with proper amenities. I am glad I have excellent fellow councillors focussed on the same issues and more.
My father was a teacher, then MEP for Leeds in the first elected European Parliament. He subsequently became MP for Hemsworth until his death in 1995. My mother was a journalist, then worked in Parliament for people including David Blunkett MP and Lord Kinnock, until she retired a few years ago.
I came to Oxfordshire in 1982 from Pontefract in Yorkshire, as a physics student at Wadham College (MA Honours). There I also got a teaching qualification. I was President of the college Student Union, which is in some ways a similar non-partisan role to Mayor, working for the community. I then went to work in scientific publishing, first for Pergamon Press in Headington and then for Butterworth-Heinemann, part of the Reed Elsevier company. There I published books in engineering, technology and management, helping people build skills and qualify as professionals – from electricians to architects. I spent four years in the mid 1990s as Oxfordshire County Councillor for the Iffley Division.
Ten years ago I left Reed Elsevier to head the British National Formulary (BNF), a key reference for healthcare professionals prescribing and dispensing medicines. There I led a hugely talented team of information pharmacists. Every comma and decimal point in the BNF is critical, and I helped move this work from printed form to digital, and to found the New Zealand Formulary. Since leaving five years ago, I have set up my own specialist publishing firm in Witney, providing expert consultancy, and publishing books to improve cancer care. Evidence-based Networks Ltd (EBN) is based on Burford Road. I am proud to say we have won the BMA Oncology Book of the Year Award for the last three years.
Alongside my work in publishing, I spent ten years, mostly as Vice Chair, on the Board of the Oxfordshire Learning Disabilities NHS Trust, providing health and social care services. I have been a governor of a number of schools, including The Blake School Cogges, Springfield School and Wood Green, where my children went. My oldest daughter, Katy, had profound and multiple disabilities, and Springfield was exactly what she needed, which explains one of my charity choices. Lucy went to Wood Green and is now studying for an English degree at Durham University. Tom is in Wood Green Sixth Form. My wife Sally-Ann teaches English and is Head of Literacy at Wood Green.
I have been a member of the Labour and Co-operative Parties for most of my life, as well as being a member of the GMB Union.  For ten years I served as a grassroots member of the National Policy Forum and Policy Commissioner during the last Labour Government. I have stood for Parliament three times, first in 1997 against Michael Heseltine in Henley, second against David Cameron in Witney in 2015, and most recently in the 2016 Witney By-Election. I have also been a Labour candidate in European Elections.
It is traditional for the Mayor to nominate local charities to support, both by raising funds and by promoting them more widely. This year I have chosen to support three:
I hope this year will be one where everyone can enjoy becoming involved with the Town Council. Please come along to our meetings, become a partner through town organisations, or bring friends or family to town events. Or invite me along to any get-togethers you have. It will be a pleasure to see you."
Follow the Mayor on Facebook
https://www.facebook.com/mayorofwitney/?ref=br_rs
---
Request the Mayor
To request the Mayor at an event please complete our Booking the Mayor Booking the Mayor form or contact the Mayor's P.A adam.clapton@witney-tc.gov.uk
Deputy Mayor
The Deputy Mayor is Councillor Joy Aitman