Witney Lake and Meadows is a 37 hectare Country Park that offers a picturesque area for recreation whether that be taking the dog for a walk around the Lake's footpath, rambling through the tranquil landscape or relaxing whilst enjoying a picnic.
Witney Lake offers a gateway to the Lower Windrush Valley and visitors will enjoy exploring the many interesting features that are home to an abundant variety of plants and wildlife.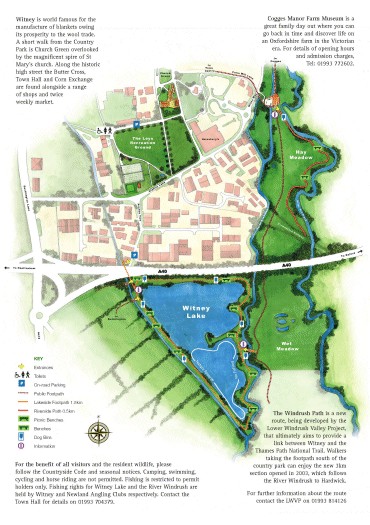 Witney Lake and Country Park information leaflet
History
The Lake is a flooded gravel pit dug initially for gravel used whilst constructing the Witney bypass (A40) in the mid 1980's. Today it forms a deep lake, whilst a traditional hay meadow and wet grassland, grazed by the cattle of a local farmer, are found between streams of the meandering River Windrush. A study by the Lower Windrush Valley project and Pond Conservation found 110 bird species and a large variety of invertebrates and wetland plants.
The southern end of the lake is sectioned as a nature reserve and the grazing land to the east and north is classified as an Environmentally Sensitive Area. To the west of the lake is an area of small paddocks and allotments, behind which the village of Ducklington is located. The northern end of the lake is sectioned as an area for public leisure, used for activities such as fishing and picnicking.
Fishing licences are issued by Witney Angling Society – contact Jake on 07913866848
or call in to the  State Fishing Tackle shop 23 Fettiplace Rd, Witney OX28 5AP