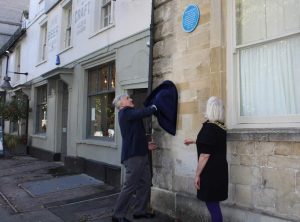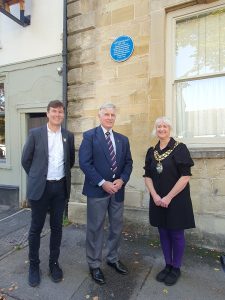 Witney Town Council is proud to have contributed to the Blue Plaque for Alice Maud Batt which was unveiled on Saturday at Batt House on Market Square.
Alice was awarded the Albert Medal, which was the highest honour conferred by the Crown on civilians for acts of bravery and gallantry, demonstrating the greatest heroism, or the most conspicuous courage in circumstances of extreme danger in 1918. The medal, which was considered to be the civil equivalent of the Victoria Cross, has now been replaced by the George Cross.
Her citation for the medal mentions a fire breaking out at the Casualty Clearing Station at Rousbrugge, Belgium, on 1st October 1918, where she was working alongside a surgeon, performing an operation in theatre. Despite the lights going out and the theatre filling with smoke and flames Miss Batt continued to assist the surgeon by torchlight, calmly passing instruments and threading needles. In this way the surgeon was able to successfully finish the operation. Miss Batt then helped to evacuate men from the burning wards to safety.
Further awards given to Alice include a Bronze Medal of the Royal Humane Society for saving an 11-year-old girl from drowning in 1915, the Special Service Cross in 1917 from the British Red Cross, the badge of the Joint Council of the Red Cross and the order of St John, the British War Medal, and the Victory Medal. Clearly, a very brave, adventurous, and resourceful individual, Alice deserves her plaque and the opportunity for the people of Witney to know a little more about her.
The Mayor or Witney, Cllr Liz Duncan joined Oxfordshire Blue Plaque Board members, relatives of Alice Batt, other local dignitaries, Councillors and former Mayor, Peter Dorward who initially proposed the plaque, at the unveiling ceremony.