John has begun work on preparing a ditch ahead of planting planned for Saturday 25th March.
One thousand whips with stakes and protection will create a 200m stretch of new hedgerow. Snipe Meadow is part of Witney Lake and Country Park.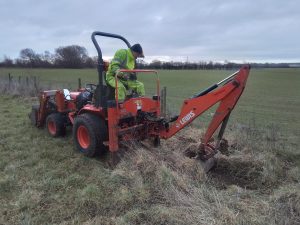 Our Ranger will need around 20 volunteers across the day between 9am and 4pm. If you can give even an hour of your time that would be really helpful. He already has a number of willing volunteers so don't miss your chance to take part in this exciting nature project.
You will need to wear strong footwear and clothes that you do not mind getting dirty.
Training, Health and safety information and spades will be provided. You can bring your own lucky spade if you prefer!
If you are keen to come along just drop an email to Carl ranger@witney-tc.gov.uk and let him know what time you can come and how long for.
Got Questions? Give Carl a call on 07774 665340