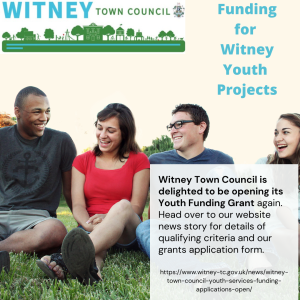 Witney Town Council is delighted to be opening its Youth Funding Grant to applications again. This is an exciting opportunity for community and voluntary sector organisations, including existing organisations and those in the process of setting up.
Applications are open for one month until 1st September 2022. Successful submissions will be projects that have a measurable impact on key issues affecting our young people and that promote positive futures.  The pot has increased from £30,000 to £40,000 this year.
The Council will look favourably on those who create opportunities to be accessible to all young people, therefore applications demonstrating how they will extend their reach to young people who have not previously engaged with these opportunities are encouraged.
Cllr Vicky Gwatkin said;
"We introduced the Witney Town Council Youth Funding grant in 2020 to recognise the fantastic contribution various organisations make supporting and nurturing relationships with our young people.  The Town Council really value the expertise these organisations bring and their continued commitment to providing positive outcomes to such an important group within our community.
We are so pleased to have further increased the grant to £40,000 this year and encourage groups to apply for the current round of funding."
Applicants will need to meet criteria as set out in the application process and will also be required to report back on the success of the project for which funds have been granted. They will be notified of final decisions in mid-October.
The 2021 fund pot was distributed to the following organisations
Got2B Community Interest Company
Home Start Oxford
Synolos
Oxfordshire Music & Arts Trust