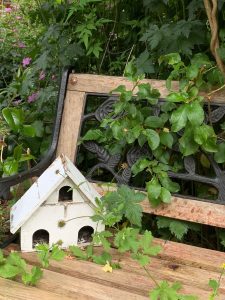 Witney Town Council have made two entries for the 2021 In Bloom awards. Both entries are in the 'Parks, open spaces and cemeteries' category and are The Leys recreation ground and Tower Hill Cemetery. Throughout the town all the Town Council beds, baskets and planters have been planted with glorious multi-colour 'brights' bedding and our banners to say 'Thank you' to NHS workers are in place in the beds situated on Welch Way and Langdale Gate.
As always, our community groups have done a great job in gardening their flower beds and community spaces. Please take time to enjoy them if you are passing – Burwell Community Garden in Burwell Drive, Edible Gardens Group have two beds in Langdale Court (behind Lakeland), Witney Fairtrade Group have two planters at The Leys, and Witney Horticultural Society have a bed in Langdale Court (opposite the Seahorse dry-cleaners).
Additionally we are again running our 'Schools Challenge'. All Witney primary schools were invited to participate, eight schools are taking part and schoolchildren have been busy planting wheelbarrows ready to be displayed at The Leys over the summer. In association with our contractor Continental Landscapes, Witney Town Council have delivered the wheelbarrows, compost and a garden centre voucher to the schools. Planted barrows are being collected and will be available for everyone to enjoy when they are in-situ at The Coffee Shed on The Leys. If you are visiting the park over the summer, please have a look at this project celebrating the power and positivity of plants.
Official In Bloom judging is expected to take place at the end of July. The Schools Challenge wheelbarrows will also be judged with the winning school to receive a cash prize of £100 funded by Witney Rotary. Runner up prizes will be awarded by Witney Town Council.
We have a new page dedicated to In Bloom on the Witney Town Council website: http://www.witney-tc.gov.uk/witney-in-bloom/