POSTED ON BEHALF OF OXFORDSHIRE COUNTY COUNCIL
THE LEYS (WITNEY) – PROPOSED TRAFFIC CALMING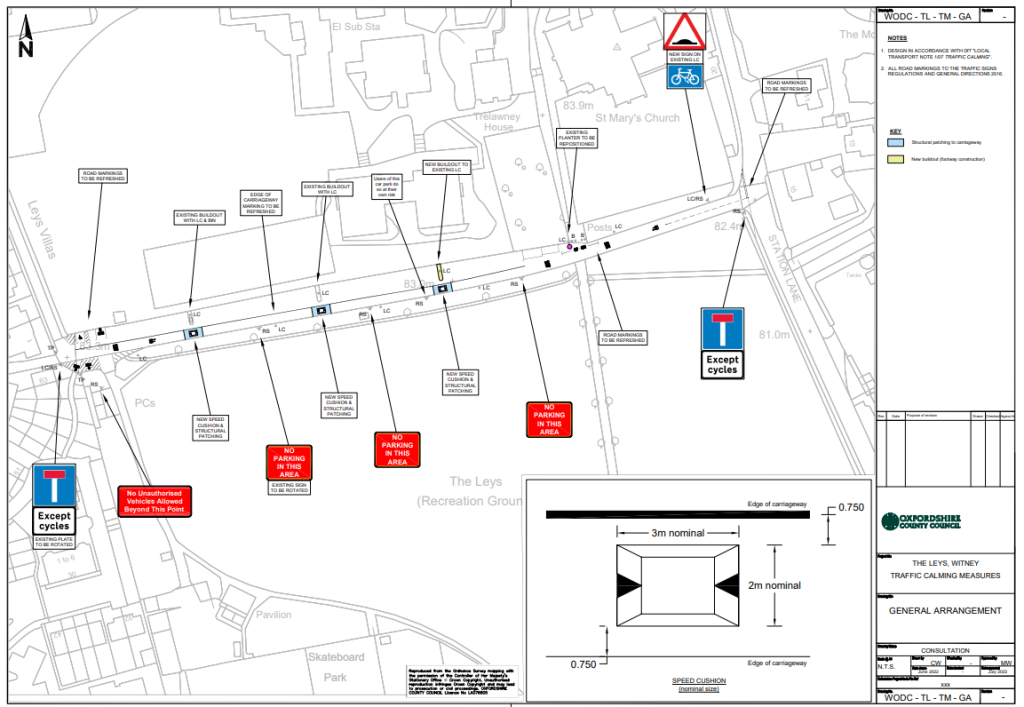 NOTICE IS HEREBY GIVEN that Oxfordshire County Council under the Road Traffic Regulation Act 1984 & the Highways Act 1980 proposes to construct the following traffic calming features in Witney, these proposals are being put forward in order to
improve pedestrian safety by reducing the speed of motor vehicles adjacent to the recreation ground and parking area:
The Leys – speed cushions, approx. 3m long, 2m wide and 75mm high, to be located approximately:
• 120 metres* west of its junction with Station Lane,
• 170 metres* west of its junction with Station Lane, and
• 220 metres* west of its junction with Station Lane.
* All dimensions are approximate, taken from the centre of the junction to the centre of the feature.
Documents giving more details of the proposals are available for public inspection online by visiting https://letstalk.oxfordshire.gov.uk
Copies may be made available on request.
Objections to the proposals and other representations specifying the grounds on which they are made, may be sent in writing to the address below or via the web address above, no later than Friday 21st October 2022.
The County Council will consider objections and representations received in response to this Notice.
They may be disseminated widely for these purposes and made available to the public.
Traffic Regulation Team (Ref: JaC/12.6.410) for the Corporate Director for Environment & Place, Oxfordshire County Council, County Hall, New Road, Oxford,
OX1 1ND.