Imagine having just a scant 66 characters including spaces (less than half that of the original short messages posted on Twitter) to convey an outpouring of all that families need to say in a final goodbye to a loved one. Now imagine that at a rate of 3½d per character this would add up to more than half your weekly salary!
This explains why many of the UK Commonwealth War Grave headstones contain only the basic facts about the fallen whose final resting place they mark.
These and more interesting facts are easily discovered when exploring the Commonwealth War Graves Commission's website.
https://www.cwgc.org/who-we-are/our-story/equality-in-commemoration/
In 2017 Witney Town Council did just that while researching its war graves as part of the Heritage Open Day event that revealed the history of Tower Hill Cemetery.  Part of the exhibition included the very first book of burial records for Tower Hill which covers the war years of WWI.
There has been cause, recently to revisit that information and history with the installation of our latest CWGC headstone. The stone is that of Royal Engineer, Pioneer Frederick, George Reginald Moore who died aged just 22 years old and although his stone is the latest to placed in the cemetery, he is among the first of those recorded as interred there.
Along with his stone there is also now a green plaque that declares the existence of War Graves in the Cemetery.  There are twelve in total in Tower Hill Cemetery (seven WWI and five WWII). Some of our war dead are interred in family plots and do not have a CWGC headstone, some are in graves that are not marked with any sort of memorial.
A map showing the locations and a list of each of the fallen has been placed in the Tower Hill cemetery noticeboards for those wishing to discover them on a short walk.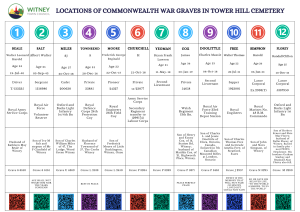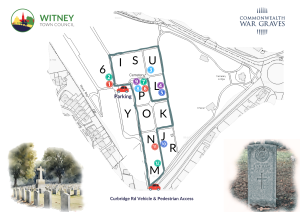 You can locate War Graves anywhere using this link
https://www.cwgc.org/find-records/find-war-dead/
There are two more WWI stones and a plaque at Holy Trinity Churchyard, while Lucy Harris is recorded as being laid to rest in the Churchyard at St Mary's Cogges (though her grave is not marked).
All the Commonwealth War Graves are kept cleaned and maintained by the commission, and each year poppy markers are placed on each of them.
A walk through the cemeteries is a great opportunity to take a more in depth look at some local history. The CWGC website is a must for more insights into the origins of the headstones and the difficult choices that had to be made while allowing as much freedom as possible for people of all cultures to honour their loved ones.
List of information from the War Graves Chart
1 Beale Walter Leonard Harold:  Age 24:  T/133335: 19-Jul-40 Driver: Royal Army Service Corps:
Husband of Kathleen May Beale, of Witney:
Section 6 Grave 6160
2 Salt Albert Walter: Age 21: 1316986: 05-Sep-43
Sergeant: Royal Air Force Volunteer Reserve:
Son of Ivy M. Salt, and stepson of Mr. F. Clanfield, of Witney:
AGE SHALL NOT WEARY HIM NOR THE YEARS CONDEMN
Section 6 Grave 6161
3 Miles SJ:  Age 27: 200630: 25-Oct-18
Cadet: Oxford and Bucks Light Infantry 1st/4th Bn.:
Son of Charles William Miles, of 47, The Lodge, Wood Green, Witney:
Section U Grave 4369
4 Townsend A: Age 51: 33885: 28-Dec-16
Private: Royal Defence Corps 24th Protection Coy.:
Husband of Florence Townsend, of 57, The Crofts, Witney:
REST IN PEACE
Section L Grave 2538
5 Moore Frederick George Reginald:  Age 22: 24327: 22-Oct-17 Pioneer: Royal Engineers 26th Field Coy.:
Son of Frederick Moore of Little Ducklington, Witney, Oxon:
Section L Grave 2450
6 Churchill H:  SS/23077: 21-Oct-18
Private: Army Service Corps Secondary Unit, Regiment transf. to (299174) Labour Corps:
Section P Grave 3264
7 Yeoman Bryan Frank Lawson: Age 21  11-May-18
Royal Air Force Secondary Unit, 1st/4th Bn.: London Regiment (Royal Fusiliers):
Section P Grave 3269

8 Cox James:  Age 36: 54658: 20-Jan-19
Private: Welsh Regiment 13th Bn.:
Son of Henry and Fanny Cox, of 14, Station Rd., Witney; husband of Matilda Cox, of 21, Highworth Place, Witney:
PEACE PERFECT PEACE
Section P Grave 3371
9 Doolittle Charles Massie:  Age 23: 08-Oct-18
Second Lieutenant: Royal Air Force 33rd Training Depot Station: Son of Charles L. and Jessie Doolittle, of Elora, Ontario, Canada.: Enlisted in 7th Canadian Mounted Rifles at London, Ontario:
Section P Grave 3485
10 Free Walter Thomas:  Age 22: 1923801: 26-Jul-41
Sapper: Royal Engineers:
Son of Charles Thomas Free and Gertrude Amelia Free, of Stratford, Essex:
SWEET IS THE MEMORY THAT WILL NOT FADE OF HIM WE LOVED BUT COULD NOT SAVE
Section J Grave 2957
11 Simpson Harold: Age 26:  EX.2938(T): 06-Jun-44
Lance Corporal: Royal Marines No. 48 R.M. Commando:
Son of John and Nora Simpson, of Witney.
SO HE GAVE HIS BELOVED LIFE. "TO THE WORLD A MARINE, TO US THE WORLD"
Section N Grave 3295
12 Florey Randall Clifton:  Age 25: 5387950: 10-Dec-44
Lance Corporal: Oxford and Bucks Light Infantry 1st Bn:
Son of Herbert Ernest and Elsie May Florey; husband of Nellie Florey, of Witney.: Buried in family plot -not CWWG headstone. His brothers Graham Starkey and Reginald Alan Florey also fell:
Section M Grave 3280